We are in an interesting time in the construction industry. If you have recently completed or are in the midst of a construction project, you know that there are a number of factors wreaking havoc on schedules.
1) Labour issues – from a world-wide shortage of skilled labour to an increase in employee absence due to COVID-19 and other illnesses, staffing projects consistently can be a challenge.
2) Construction backlog – As many organizations had to put plans on hold over the past two years, there is now a surge in demand that can mean delays in starting projects.
3) Supply chain issues and material availability – Though we are starting to see some improvement (see the chart below), there are still some materials that are incredibly difficult (and often prohibitively expensive) to source.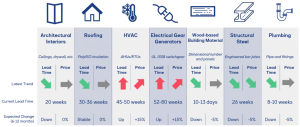 Courtesy of Skanska's 2023 Construction Market Trend Outlook
So, what can be done to try to alleviate these challenges? It takes a collaborative and agile effort between all stakeholders:
Start your planning early, and consider engaging a contractor in the pre-construction process (read more about Terlin's pre-construction services by clicking here).
Award projects quickly, and with sufficient lead time for confirming subcontractors.
Build in adequate time for shop drawings, samples and submittals.
Identify and order long-lead items. If payment up front is possible, that can help.
Be flexible with materials and finishes. Could a prefabricated or modular solution work for your project?
Schedule realistic turnaround time for approvals.
Open communication throughout the process with all stakeholders can help alleviate issues that can affect the schedule mid-project.
If you're considering a construction project in 2023, reach out to us right away. We can help guide you through the process and alleviate your concerns.
Contact Terry McLaughlin, President, at 1-888-791-9376 or terry@terlin.ca.